The NEC Concept LED Ceiling Light With Integrated Speaker is a cutting-edge lighting fixture that not only provides bright and efficient illumination but also features a built-in speaker that can play music or other audio content. This innovative design combines two functionalities in one sleek and modern product, making it an ideal choice for homes, offices, and other spaces where style and functionality are equally important.
One of the main advantages of this LED ceiling light is its energy efficiency. It uses LED technology that is much more energy-efficient than traditional incandescent bulbs, helping to save on electricity bills while providing bright and reliable lighting. Additionally, the integrated speaker offers a convenient and space-saving solution for those who want to enjoy music or audio content without the need for a separate speaker system.
The NEC Concept LED Ceiling Light is also designed for easy installation and use. It can be installed in any standard ceiling mount, and it comes with a wireless remote control that allows you to control the light and speaker functions with ease. The remote control features buttons for turning the light on and off, adjusting the brightness, and changing the color temperature, as well as buttons for controlling the speaker volume and playback.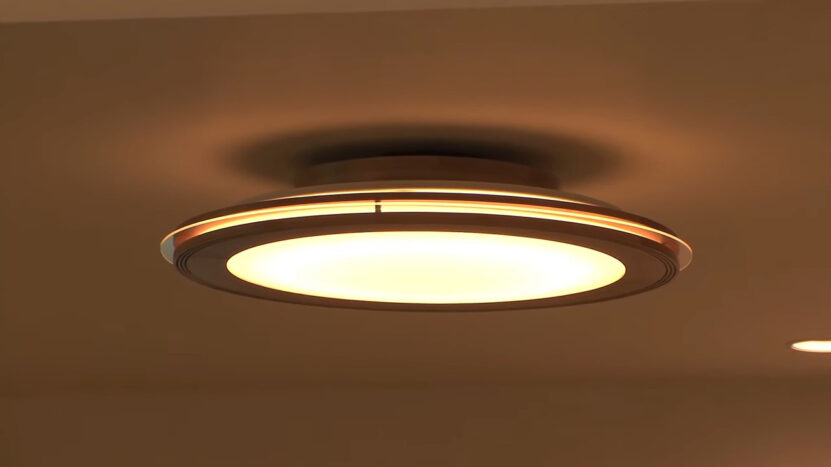 The design is sleek and modern, with a flat and circular shape that complements any interior decor. It is available in a range of color temperatures, from warm white to cool white, to suit different preferences and settings. The integrated speaker is hidden behind a fabric cover that provides a soft and diffused light effect, while also ensuring clear and high-quality sound.
NEC Lighting have combined an LED ceiling light with an integrated wireless speaker, which can be controlled by your smartphone via an Android app.
It uses Bluetooth to stream music from the phone to the speaker, and the same app can also be used to control various aspects of the lighting, such as brightness and color temperature. It's also possible to create effects with synchronized sound and light.
"Light fittings are in the middle of rooms, and we've used that fact to design this revolutionary, totally new product. This system enables light and sound to spread from the center of a room to the entire space. It also enables the user to control the effects with a smartphone."
This demo system has three preset modes, which combine light and sound effects. Users can choose Active, Natural, or Relaxed mode to match their mood.
"We're still developing this system, with the aim of releasing it this year. Here, the light has a wooden frame to match the interior atmosphere. But we're also considering other versions, including ultra-modern acrylic panels, traditional Japanese designs, and simple globes."
In summary, the NEC Concept LED Ceiling Light With Integrated Speaker is a highly functional and stylish lighting fixture that offers the benefits of efficient LED lighting and a built-in speaker. Its sleek and modern design, energy efficiency, and easy installation and use make it a great choice for anyone looking to upgrade their lighting and audio systems in a single step.